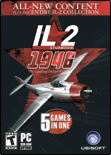 L-2 Sturmovik: 1946 (also called IL-2: 1946) is a 2006 expansion to the flight simulation game IL-2 Sturmovik. It was developed by 1C: Maddox Games and published by Ubisoft. IL-2 Sturmovik: 1946 takes place during World War II. The expansion adds new aircraft, new maps, and new campaigns. Although technically an expansion, it comes with all of the expansions and the base game before it, up to version 4.07m. IL-2 Sturmovik: 1946 has multiplayer capabilities, mainly through Hyperlobby, a third-party client, rather than through the game itself, due to the difficulty of direct IP connect and the ability in Hyperlobby to connect to servers without needing the IP address.
Reception
Edit
The review aggregator Metacritic gives IL-2 Sturmovik: 1946 a ranking of 83 out of 100,[1] while another review aggregator, GameRankings, gives a rating of 85.38%.[2]
IGN gave the expansion a rating of 8.1 of 10.[3] GameSpot rates IL-2 Sturmovik: 1946 at 8.5 out of 10.[4]
Modifications
Edit
IL-2 1946 has been modified, technically illegally, by users since its release. There were many conflicting opinions on this at first, but as time has gone on, modifying, or "modding" has grown to be a mature and respected facet of the game, and modifications that give an unfair advantage are generally looked down upon and discouraged by the community. There are many different mods & mod-packs available. Popular mod-packs include Dark Blue World (DBW), and Ultrapack ("UP"). In 2011, 1C Maddox announced on its forum boards that it would open a discussion thread for modding of the game.
Community content is available under
CC-BY-SA
unless otherwise noted.